Person-Centered Thinking 2-Day Workshop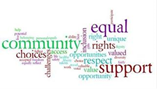 Person-Centered Thinking
(2-Day Workshop)
Date:  October 24 & 25, 2019
Time:  9:00 a.m. – 3:30 p.m. (registration begins at 8:45am)
Location:  CLA Building, 1414 MacArthur Rd, Madison, Room 315
Instructor:  Andrea Gehling, Support Broker – Avenues to Community
Community Living Alliance, in partnership with Avenues to Community, is offering this 2-day workshop facilitated by Andrea Gehling.
There are two (2) seats available for CLA Staff at no cost.  Act fast if you are interested in attending!
To register, please contact Dona Potters, CLA Education Coordinator by or before October 18, 2019:
Email: pottersd@mdn-pubweb-deb10.clanet.org   Telephone: (608) 242–8335, ext. 1203
Person-Centered Thinking was developed by The Learning Community for Person Centered Practices. It builds upon the concept of Important To and Important For. The course provides practical skills and tools used to help personalize services. These skills and tools can be used with people we support including family members, teams, and colleagues. The skills help capture who the person is and what they need, how to manage the roles that people play in others' lives, and skills to help us learn from new or challenging experiences. At the end of the course, attendees will be able to develop person-centered descriptions and use new skills to facilitate team meetings or group discussions about support.
Andrea Gehling has over 10 years of experience working with children and adults with disabilities. Since 2012, she has been working as a Support Broker at Avenues to Community. This role has evolved from case management to assisting with filling gaps within services. This has allowed her to start working with families about establishing what a good life might be. Andrea has been mentored by nationally known Person Centered thinkers. Andrea is a Certified Person Centered Thinking trainer through the Learning Community of Person Centered Practices and an Affiliated Regional Trainer with the National Task Group on Intellectual Disabilities and Dementia Practices. Andrea is also a certified PATH facilitator. She uses skills from these trainings on daily basis in her work as a Support Broker and Plan Facilitator.